Tel Aviv overtakes Paris as World's most expensive city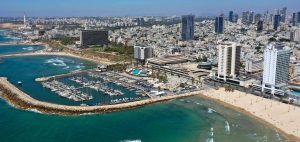 The Israeli coastal metropolis of Tel Aviv is the most expensive city in the world, according to the latest analysis by the British Economist magazine published on Wednesday.
Tel Aviv takes first place from the French capital, Paris, which fell to a second place shared with Singapore.
Next in the ranking are the Swiss financial centers of Zurich, Hong Kong and New York.
The data was collected by The Economist Intelligence Unit's Global Cost of Living Survey.
The Syrian capital Damascus took last place in the ranking.
Berlin dropped eight places to number 50 and is the cheapest of the six German cities listed.
Frankfurt is the most expensive German city, ranking 19th.
Supply chain problems and coronavirus measures that limited production and trade have contributed to the rising cost of living in many cities, according to the analysis.
Transportation costs rose sharply due to rising oil prices.
Leisure, tobacco and personal hygiene also experienced significant price increases.
The survey compares 173 countries with more than 200 products and services.
dpa / NAN
Short Link: https://wp.me/pcj2iU-3F0a