Sheikh Gumi cautions against declaring bandits as terrorists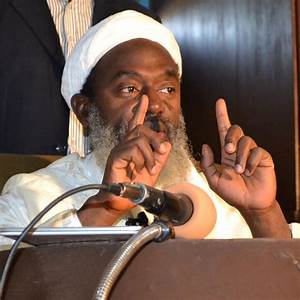 Controversial Kaduna-based Muslim cleric Sheikh Ahmad Gumi has warned against declaring the bandits terrorists, warning that such a move could have dire consequences.
In recent times, there have been new calls from various quarters for the federal government to declare them as a terrorist organization.
Earlier this month, the Senate and House of Representatives along with Kaduna State Governor Nasir El-Rufai called on the federal government to declare the bandits terrorists.
But Mr Gumi, who has already visited their enclaves in order to persuade them to lay down their arms, said declaring them terrorists would radicalize them and make the situation worse.
In a lengthy Facebook post titled "Declaring Bandits Terrorists Will Come With a Price!" (sic) ", declared the Sheikh once declared thus, the foreign jihadist movements would join them.
"No one doubts that sentimentalism prevails today over sensitivity in our regime. For the sake of posterity, some people will need to speak out.
"The acts that the bandits are now committing in the North West have gradually become, over time, akin to terrorism, because wherever innocent people are fatally victimized, it is pure terrorism. Yet innocence these days is relative. We agreed that if their children and wives are also killed, they are guilty by association or collateral damage, so the bandits can think the same as well. It is fair for vigilantes to lynch Fulani shepherds or anyone who looks like them by profiling them, but it is wrong for the shepherds to ransack villages as retaliation. They are made to believe that this is an existential war and in war ethics is thrown to the winds.
"Again, the only useful part against the bandits is that none other than them is drawn to join them in the Northwest because of its ethnic hue and coloring. However, as soon as they are qualified as terrorists – Islamic for that matter, direct foreign jihadist movements will establish themselves in force. And many young unemployed people teaming up may find it enjoyable and appealing. Shouting "Allahu Akbar" plus AK47 against an immoral "secular" society where impunity reigns attracts extremists and the oppressed – the majority of our youth. Already these murderous terrorist groups are fighting for the souls of these bandits. This will give the crime a spiritual cover and remove the stigma of discrediting them with such crimes because now they are fighting a "Jihad" as they claim. In such a situation, does society as a whole – as it is – have the high morale to fight back? This is the most likely consequence, the price of which is not worth it. Nothing prevents kinetic actions from unfolding without the controversy of semantics.
"The North-East is already and still is devastated by this madness for more than 12 years. If we allow terror to take hold in these raw, naive and unexposed bandits, the Northwest will be in ruins as soon as possible. Already IPOB is destroying the South East, and Igboho has sparked confusion in the South West. For those who want to destroy the Northwest, this is a good recipe. Turn the bandits into religious fanatics. Tell me, what is left of Nigeria then?
"I started to get these crude bandits out of their mishap but unfortunately I have little help and a mountain of antagonists. The psychology in the struggle against the natives is to induce a motive for their struggle if they Do not already have one, a pattern that is manageable, and it is managed that way Unfortunately, responses to the threat in our country are always slow and inconsistent.
"I hope that another Igbo cleric will also enter the IPOB activists and give them meaning, and that another pastor from the land of Oduduwa will speak out against the secessionist Igboho tribal movement by sensitizing people to values. a cohesive nationalism that will guarantee freedom, equality, and justice for all Religious forces can permeate hard hearts where secular forces cannot.
"Sadly, people sit in the comfort of their bedroom or living room and make unnecessary comments that only fuel the hell of ethnic chauvinism and bigotry. In the 21st century, Nigeria is being hijacked by semi-illiterate and half-baked tribal heroes who have nothing to offer other than the promotion of tribal xenophobia. Nigeria has more than 250 ethnic groups. It is not possible to divide such a nation into tribal enclaves. Nigeria is multi-religious, even within the same religion or sect, there is no harmony and understanding that can build a prosperous and unified nation where tranquility and development will flourish. We are fed up with these destructive and sterile false slogans!
"Nigerians are in a daydream for so long that they act by nerve impulses and not by the dictates of their cerebral cortex. May Allah protect us all. Amine, "he wrote.
Short Link: https://wp.me/pcj2iU-3Dnw