Shehu Shagari Varsity takes off in 2022 – Official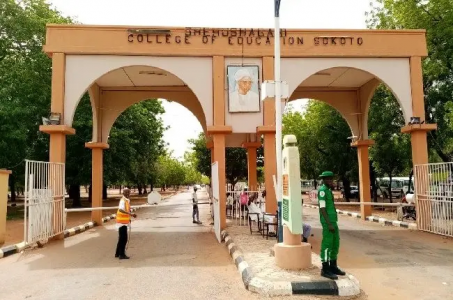 The Sokoto state government says the new Shehu Shagari University of Education, Sokoto, will begin operations in 2022.
Al-Mustapha Ali, the permanent secretary of the Higher Education Ministry, made the disclosure on Friday, when ministry officials appeared before the State Assembly House Committee on Higher Education to defend their 2022 budget proposal.
The Nigerian News Agency recalls that Governor Aminu Tambuwal, on December 28, 2020, announced the upgrade of the 51-year-old Shehu Shagari College of Education to a University of Education.
According to Mr. Tambuwal, the decision was based on the College's enviable track record.
"The foresight, vision, creativity and leadership acumen uncommon and characteristic of the university have been historically associated with our ancestors for more than two centuries," he said.
According to Ali, the new Faculty of Medical Sciences of the State University will also begin its activities in the same year.
"The new University of Education will promote the training of the adequate workforce that will serve the educational sector of the state.
"The College of Medical Sciences will provide additional staff for our medical institutions and hospitals.
"Medical facilities include: The new Teaching University Hospital, which is under construction, and the upgraded General Hospitals across the state," he said.
Mr. Ali added that the state government has made the necessary arrangements for the start of more than 50 undergraduate and graduate courses at the state university.
"We are fully prepared to ensure that all courses offered at the state government owned Higher Institution obtain the required accreditation in due time," he added.
Committee Chair Sule Romo (PDP-Tambuwal West) assured that the Assembly will continue to support the ministry to achieve the desired achievements in education.
In another development, the state government has reaffirmed its commitment to complete and initiate legacy projects under the state Ministry of Health in 2022.
Dr. Ali Inname, the state Health Commissioner, revealed this when ministry officials appeared before the House Health Committee to defend his 2022 budget proposal.
According to Inname, the ministry has recorded many achievements in the year 2021 and will continue in the same direction to ensure adequate medical care in the state.
"In 2022, we will remain committed to ensuring the success of our legacy projects in the healthcare sector.
"The state government will also guarantee the upgrade of more general hospitals to specialized hospitals," he said.
The committee chairman, Ibrahim Sarki (PDP-Sokoto North II), praised the state government for placing the highest priority on the health sector in the state.
He assured that the committee will continue to work closely with the ministry to ensure the delivery of world-class health services to the people of the state.
YAYA
Short Link: https://wp.me/pcj2iU-3F9T