KAROTA dismisses officer for slashing tyres of trailer to punish driver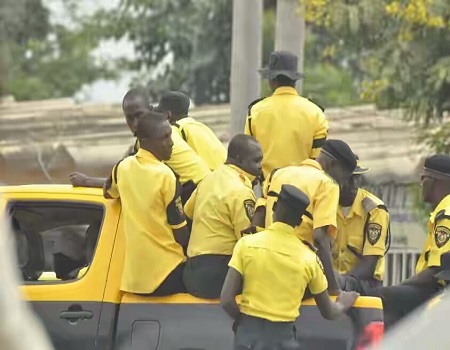 The Kano Roads and Traffic Agency, KAROTA, on Thursday announced the sacking of one of its employees, Jamilu Gambo, for allegedly puncturing a trailer's tires in Kano state.
Mr Gambo, according to a statement by KAROTA spokesman Nabilusi Kofar Na'isa, said the agency's general manager, Baffa Dan'agundi, had approved the officer's dismissal.
He said the staff were fired, following his unprofessional driving at his workstation where he destroyed the tires on a trailer following an argument between him and the driver of the vehicle.
The development, according to Mr. Nabilusi, forced the closure of the Kano-Hadejia road by rioting truckers in solidarity with their member, causing traffic jams in the region.
The spokesperson explained that the decision to fire the officer came after an emergency meeting with the state police commissioner, where it was unanimously agreed that he should be relieved of his duties.
"The General Manager of the Kano Roads and Traffic Agency, the Hon. Baffa Babba Dan'agundi appreciates the leadership of the NARTO Kano branch for their prompt intervention, "he said.
According to him, NARTO and the police saved the day by preventing crowd action and the collapse of public order.
"On behalf of the Agency, the Director General apologizes to the general public whose travel has been delayed as a result of the incident.
"The agency also wishes to announce that the sacked officer has been handed over to the police for further investigation and has been forced to pay for the damage caused to the driver's vehicle," Nabilusi added.
Short Link: https://wp.me/pcj2iU-3DzX