Jos jailbreak: 11 killed, 262 inmates escaped, 10 recaptured – Official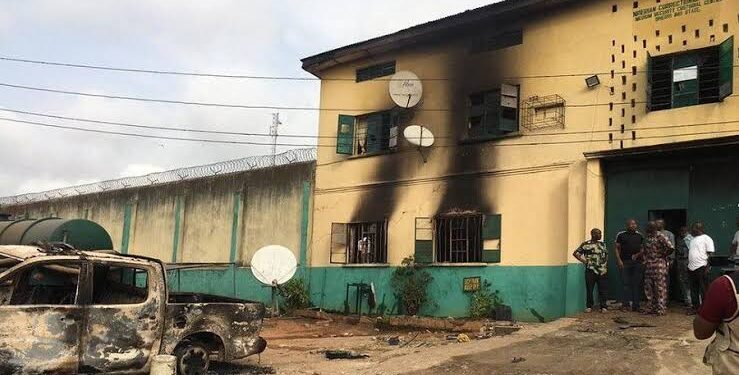 By Muhammad Shittu – The Plateau State Custody Center confirmed Monday that 9 inmates, a staff member and a gunman were killed after a leak incident at the facility.
The Center's spokesman, Francis Enobore, who is Comptroller of Corrections, made the confirmation in a statement.
Enobore also revealed that a total of 262 inmates, including some of the attackers, have escaped in the melee.
He said: "One of the gunmen trapped inside the Medium Security Custody Center, Jos, after invading the facility, has been identified as one of those killed in the gun battle.
"Unfortunately, one of the NCoS Armed Squad staff members paid the ultimate price in the encounter, while 9 inmates also lost their lives.
"Other Service personnel were shot in the hand and 6 inmates were also injured in the attack.
Meanwhile, some of the attackers and a total of 262 inmates escaped in the melee before reinforcements from the sister services could arrive.
"However, 10 have been recaptured so far, leaving 252 at large," he added.
According to him, the Comptroller General of Corrections, Haliru Nababa, condemned the family and friends of the brave officer who paid the maximum price in the meeting, promising that the death would not be in vain.
He stressed that all the perpetrators of the incident would be prosecuted and faced with the wrath of the law.
He thanked the officers and men from other security agencies for their assistance in controlling the situation, and assured the public that the safety of the inmates, including their care and support, would remain a top priority of his administration.
He called for the collaboration of patriotic individuals to stop fleeing prisoners, as well as to provide credible intelligence that could nip such nasty incidents in the bud.
"The Jos Medium Security Custody Center, at the time of the attack, had 1,060 inmates, of which 560 were in preventive detention and 500 were convicted," he said.
Likewise, the spokesman for the Police in the state, ASP Ubah Ogaba, in a statement on Monday, said that 9 of the escapists had been arrested again.
"On 11/28/2021, at approximately 5:20 p.m., the medium security custody center in Jos was attacked by yet unidentified gunmen from where some inmates escaped. Upon receiving the report, the Commissioner of the Plateau State Police Command, CP Bartholomew Onyeka, who led reinforcements to the scene, ordered the entire center to be cordoned off.
"The PC also ordered the immediate arrest and search in which nine (9) fugitives have been captured again by the Police and are in custody, while one fugitive voluntarily surrendered to the Police.
"Based on the prompt response, the situation was controlled by superior shots from the Security Agencies.
"Police and other security agencies are currently on the ground to effectively deprive thugs of the space they wish to carry out their evil deeds," he said in a statement.
Short Link: https://wp.me/pcj2iU-3EUJ