BREAKING: In night operation, Kano gov't seals off Shekarau lawyer's office again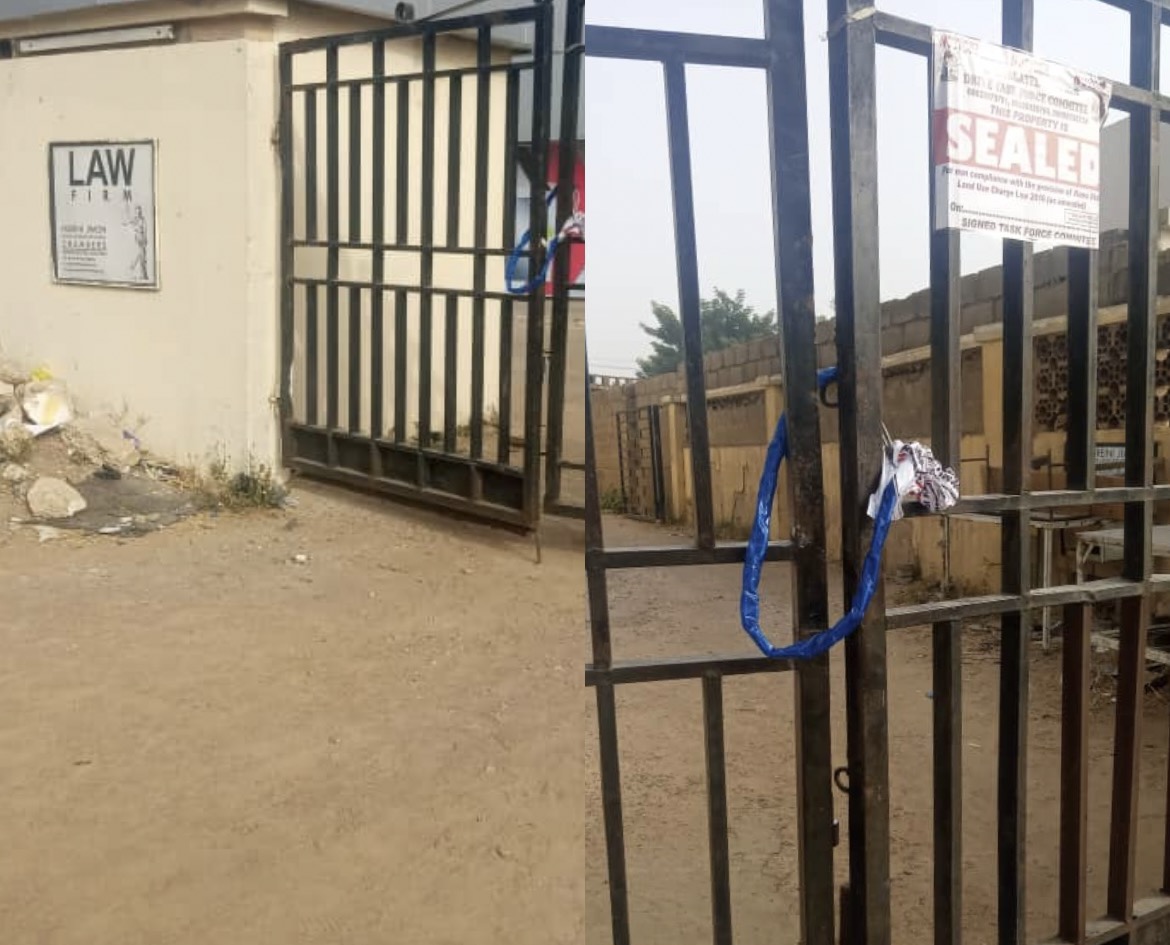 Officials from the Kano Land Office again sealed off the building that houses the chamber of a high-ranking lawyer, Nureini Jimoh, SAN, who secured victory against the faction led by Governor Abdullahi Ganduje of the Congress of All Progressives, APC .
A day after securing the epic victory, the state government sealed the building with padlocks as the attorney and his colleagues worked inside their offices.
Following protests from the Kano branch of the Nigerian Bar Association and the media, the office was opened on the same day.
But DAILY NIGERIAN surmised that officials returned in the wee hours of the night to seal the building again.
"This morning, the Kano state government renewed its attack on the lawyer again when officials closed and sealed the office again. It is interesting to note that the location is the only one in Kano state that is affected by government policy. The action took place overnight. It is shameful and regrettable that the Kano state government is inclined to its illegalities, "said a source familiar with the development.
The Kano State Land Management Office on Thursday offered an explanation for the action, saying the target of the action was the building's owner and not the lawyer.
Murtala Umar, spokesperson for the Office, said: "The state government sealed the property belonging to Isiyaka Rabi'u & Sons at C14 / C16 Murtala Muhammad through its Land Use Charges committee.
"The committee issued a notice of lawsuit to the owner of said property on September 14, 2021 and also served him a warning notice after a month reminding him to come and pay the outstanding rent for the land that he did not pay from 2016 to 2021.
"We sealed about 30 properties yesterday 01/12/2021 in different parts of the state, such as properties on Zoo Road, Zaria Road and Ibrahim Taiwo Road.
"Seven properties were also sealed on Murtala Muhammad Way that received notice of lawsuit and warning and have yet to respond. Therefore, the committee will continue to seal any property that its owner refuses to comply with the land use law.
"As custodian of the land, our record shows that the property in parcel C14 / C16 belongs to Isiyaka Rabi'u & Sons, not attorney Nuraini Jimo. Our concern is the owner of the property, not who rents it ".
DAILY NIGERIAN reports that there is repression against opposition elements in the state, culminating in attacks and burning of properties of opponents of the governor.
Short Link: https://wp.me/pcj2iU-3F6P